Informal networking event for and by contact center professionals - Season 6 Edition 3 / 5
Thursday March 8th 2012, 17:00 - 21:00 h. Veemarkt 5 - 2800 Mechelen.
The re-styled ContactcenterCafé took off successfully with satisfied participants
who turned up in ample numbers. Up to the next:
Contact Centers and homeworking
Home working is a very hot topic, also in the contact center branch. It is (cost)efficient, favours traffic avoidance, is flexible, lean and green. For sure, it is not as simple as it seems. It is a challenge, a quest. In short, a perfect match for our ContactenterCafé.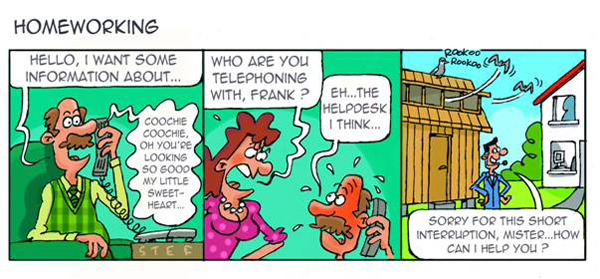 For our panel we invited three speakers with loads of vision and expertise.

Philip Van Houtte, Managing Director Plantronics – Europe, Middle East and Africa
Marian Dewaersegger, Laywer with Van Olmen • Wynant
Mister/misses TBC, Manager of homeshored contact center services
Moderator: Hans Cleemput
We are looking forward to welcoming you on this captivating and cozy event
PS: ContactcenterCafé invites will be send to contact center leaders only. The sponsors present – financors of the CCCafé – have committed themselves to not approach the other invites commercially.
| | | |
| --- | --- | --- |
| | | |

If you wish to unsubscribe, click here